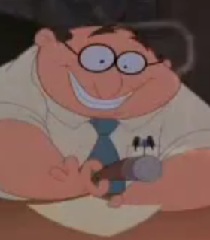 Farley Wink is the blabbermouthed owner of the office building for animal actors who smokes cigars. At one point, he even puts one in Danny's mouth as he gets him to sign the papers. Vocal effects artist Frank Welker did his voice. Sawyer dislikes him because of his eagerness. Also he accidentally slammed Sawyer on the face with a door. Farley Wink might also have a slight intrest in Sawyer as seen in one scene in the film.
Ad blocker interference detected!
Wikia is a free-to-use site that makes money from advertising. We have a modified experience for viewers using ad blockers

Wikia is not accessible if you've made further modifications. Remove the custom ad blocker rule(s) and the page will load as expected.