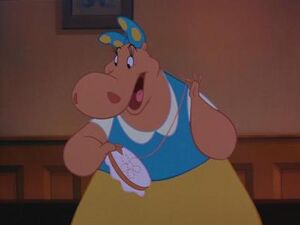 Tillie is a supporting character in the film. She is a hilarious hippopotamus, as hinted out by her giggling and snorting, and by how quickly she introduces lots of people (and fellow animals). Normally, she wears a blue bow, a yellow-and-blue dress, and a pair of white bloomers. On the other hand, whether she is wearing her sailor outfit or her premiere dress, she doesn't appear to be wearing bloomers. Like Pudge, she is supportive of Danny. Both her speaking and singing voices were done by Kathy Najimy, who is best known for the voice of Peggy Hill in the animated sitcom "King of the Hill".
Inspiration Nurse from Romeo And Juliet
Ad blocker interference detected!
Wikia is a free-to-use site that makes money from advertising. We have a modified experience for viewers using ad blockers

Wikia is not accessible if you've made further modifications. Remove the custom ad blocker rule(s) and the page will load as expected.